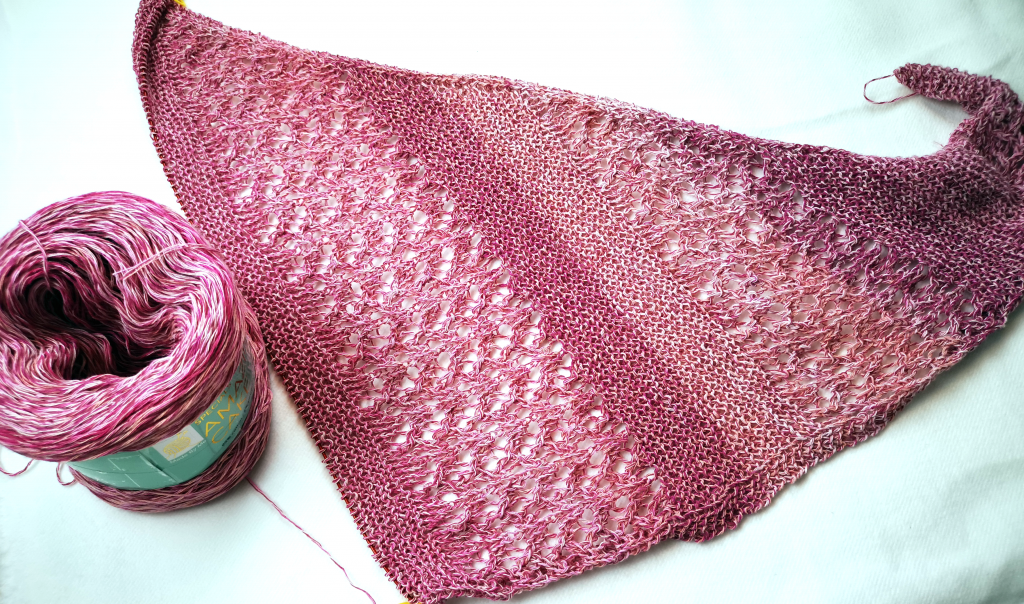 When browsing through the patterns of the most popular designers on Ravelry, it becomes evident that most of them favour luxurious handdied yarns. And admittedly, these are nice yarns. Very nice. Gorgeous colors, pleasing textures, eco-friedly, low impact … but expensive. Not everybody can pay 150 Euro or more for the material for a shawl or a garment. I have read peoples posts that they do not dare to apply for a test knit because they think that they are required to use expensive yarn and I am reading a lot of rants against "cheap" yarn.
I must admit that I am ambiguous with regard to this topic. On the one hand I do not want to support low quality mass production – on the other hand I just cannot condemn people who buy budget priced yarns because they just can't afford expensive brands. And – shame on me – I also like bargains and if I find a nice looking yarn at a low price I often succumb to temptation.
The picture above shows my current project – Myrcella – the third installment in my Game of Throne shawl series – knitted with a very low budget yarn which is suprisingly pleasing to work with and looks very classy. Not too bad for 2.99 € / skein, eh? It is a blend of 95% cotton and 5% polyester with a yardage of 630 m (689 yd) per 150 g cake. I am really happy with the look and feel of the material, it will be a nice lightweight summer shawl and I am curious about the durability, but since it is mostly cotton, I assume it will be wearable for a long time.
However, I am more and more pondering about things like sustainabilty and fair production, so what should I do? Pay attention to responsible facts like mulesing free wool and as little synthetic material as possible? These are surely the "right" criteria, yes? Some of my friends are vegans and they would answer in the negative. Ok, to please them, I only use synthetic fibres or cotton. Other friends are environmental activists and they criticize the danger of microplastic and the exessive use of water in cotton production. Who is wrong, who is right? In the end probably no one is and the best thing to do is the happy medium.
First of all we have to realize that we ALL live in abundance, even though some of us may not be able to afford the most expensive luxury yarns. Assuming that most knitters live in first world countries I think we all can admit that we are quite well off compared to the rest of the world and that knitting is a hobby for us. We have no necessity to produce clothing lest we freeze to death, we do not really need our knitted object to survive. So, in the broadest sense – like with all consumer goods – our knitting has an unneccesary impact, no matter what kind of material we buy. This is a fact we have to accept or we have to abstain from all consumption including out lovely knitting hobby. But – honestly speaking – I am not prepared to do that.
For the moment I am compromising with myself – I buy considerably less yarn than I used to a few years ago. After a few years I realised that most of the stuff in my stash didn't attract me anymore and I donated a good deal of it so now I (try to) buy only material for a specific project and I pay more attention to the fibre composition and the origin of the yarn and I try to keep the impact as low as possible. But nevertheless, I am not completely denying myself the occasional pleasure of making a bargain and until I find a great yarn company who will sponsor my designs with free yarn, I also have to buy some budget priced stuff. So please do not feel embarrassed or guilty if you are using budget friendly yarn; whatever you do is "wrong" in somebodys eyes and whatever you do will have an impact on something. Just make sure that you make conscious decisions that you can live with.
By the way: I accept test knitters using all kinds of yarn unless explicitly specified otherwise and I specifically encourage my knitters to use the yarn that best suits their taste, needs and budget. This is why my patterns always list all the details on the yarns I used for my sample pieces. Especially yardage and material composition give you a good idea about the type of yarn that has been used and will help you to find a suitable alternative.